Why Twitch Streaming Influencers-Streamers Need Their Own Website
Streamer Cloud explains why Twitch streamers who have their own website see much better growth, secure more sponsors and make more money.
A major aspect that is grossly overlooked by thousands of live video game streamers, Twitch's Elite included, is when it comes to truly owning their online streaming brand. If you would like to see who truly OWNS a streamer's online brand, all one has to do is search your favorite Twitch streamer's name in Google. The results will reveal who really owns their online streaming brand and who is making money with it.
Key Fact: When someone does a Google search of Nike or Sony, does their Twitter Page or YouTube channel show up in the number one spot? Absolutely not! Why? Nike and Sony truly own their brand, online and offline, and that's how they make their billions of dollars per year. What's stopping live streamers on Twitch, YouTube and Mixer from doing the same thing?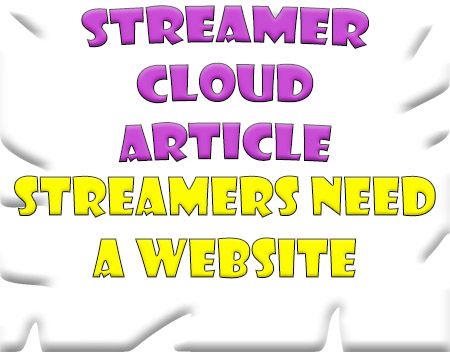 How much are Twitch streamers and other content creators losing by not owning their online streaming brand?
Live video game streaming influencers, unfortunately, do not own much of anything related to their streaming channel. If Twitch, a leading live video game streaming platform, went offline today, what would mega Twitch rockstar streamers like Dr. DisRespect and Ninja do? They certainly wouldn't be making any money.
Dr. DisRespect and Ninja are the best of the best when it comes to Twitch streamers. They have set trends, broken records, and have set the standard of live video gaming streaming across the board.
Hypothetical scenario here but what if Twitch where to shut down? More realistically, what if something significant were to occur within the live streaming industry that made it extremely unfavorable for medium to large streamers to use services like Twitch? After all, this is the internet. Twenty-five years ago, would anyone have thought AOL would be what it is today? What would streamers like Dr. DisRespect and Ninja do?
Realistically, if it were not for their Twitter and YouTube accounts, Dr. DisRespect and Ninja would have very little online to show they even once existed. Having an established website could be the "nest egg" of endless possibilities they could focus their efforts. A website would provide the next best place for a streamer's following to migrate to. This scenario seems almost unthinkable but when it comes to anything "online," there will always be an expiration date assigned to it.
Quote by GamerNinja: With today's advancements in website hosting technology, and website creation and development, a streamer not having or owning their own website is like Amazon not having a website and selling their goods through Ebay.com.
What Twitch streamers are missing out on right now!
Real-life Scenario: Let's imagine if the current Twitch sensation Ninja had and owned his own website today, which he does not according to Google and Ninja's Twitch dashboard. Since Ninja has risen to the level which he is currently at very recently, we will focus on the missed monthly earning potential.
Ninja Details: At the time of this writing, and according to Twitch.tv and SocialBlade.com, Ninja has 300,000+ people watching his stream right now (Friday Night Fortnite), and 234,469,338 people have viewed his channel since it was created.
Google AdSense Details: Google AdSense does not publish AdSense earnings or statistics behind successful revenue generating websites. We will use this current list of the 15 Highest Google AdSense Earners from RankRed.com. This list is seemingly reliable and is based on total page-views CPC, and unique visitors but like anything on the internet, it's subject to change and accuracy.
Based upon a very quick and conservative "guess-estimate" using the RankRed.com list, this would put Ninja easily in the HongKiat.com and PerezHilton.com category. This would put Ninja at a potential monthly loss of $55,000-$60,000 dollars by not having a website with Google AdSense ads on it right now. The above figures do not include the many other ways a site could generate income like paid sponsors ads, merchandise, and product sales.
How does not having a website impact the average streamer?
Now, the above example is hypothetical, and on the extreme side of the streaming influencer and streamer needing a website spectrum. Ideally, a website and the cost behind it should equal that of paying for itself before it is considered a means of generating additional income or revenue. How does this translate into something a streamer who is just starting and them needing a website? Streaming influencers just starting out do not need to run out and start a website right away. If a new streaming influencer does focus on a website at the beginning, it will allow for a great foundation from which to grow and start the journey to owning their streaming brand keywords early on.
Owning Your Streaming Channel Brand and Its Keywords
Any website on the internet that follows the basic rules and generates excellent and relative content structured towards a singular goal will attract visitors. For a video game streaming influencer on any level, those website visitors have the potential of becoming followers. A follower is a follower no matter if you have ten or ten million. The visitors of a website could be potential followers a streamer usually wouldn't have if they did not have a website. How do potential website visitors find a streamer outside of searching within a streaming platform such as Mixer.com or Twitch.tv? The answer would be by searching through Google.com.
When people search the world wide web, they use a search engine. Google is and has been the most popular search engine so we will use Google as our reference. Google searches, according to Net Market Share, in 2018 is still by far the top search engine. A streaming influencer's streaming brand extends further than just their streamer channel name. A streamer's streaming brand encompasses everything from the typical text and words they use on social media to the comments and reviews followers, and subscribers create on various websites across the internet.
When it comes to a streamer owning their brand, the focus should be on their streaming channel's name and it being first on the list when searched using Google. If a streamer does not have a website, their streaming channel name is not too vague or widely used (example channel name: PUBGMaster), and they do a search of their channel name via Google, most likely the results will return their social media pages. Returning their social media pages from within a Google search is not all that bad and shows the rewards of growing their social media streaming brand. If the results return nothing, well then, that streamer has some work ahead of them.
How Does a Streaming Influencer/Streamer Make Money with a Website?
This question results in a simple answer. Once a streaming influencer has an established website, they would create a free Google AdSense account. After a Google AdSense account has been established, the next step would be to generate a Google AdSense ad code javascript snippet. Once a streamer has their Google AdSense script snippet, they would place this snippet within their website which in turn will show Google AdSense ads throughout their website. Each time a visitor views a webpage, which could be any page on the website, Google detects this, and the website owner is credited in their account for the views.
To learn more about how AdSense works and how it will make a streaming influencer money, Google has provided a How Google AdSense Works web page that explains all the details in full. Once ads get up, visitors come to the website, the owner of that website instantly earns additional revenue.
The Following Will Impact How Much Money a Website Will Make Using Google AdSense:
Where you place your AdSense Ads
Amount of traffic a website has
The kind of traffic a website has
What content and the amount of content a website has
Advertiser's level of motivation to invest in a Streaming Influencer's Website (what they are willing to pay)
When a Streamer Must Have Their Website
Owning your streaming channel's brand keywords within a Google search, especially if you are a full-time streamer and making a living streaming video game, only enhances your online presence and gives the streamer control and ownership.
Where having a website for a streamer comes heavily into play is when a streamer becomes more popular and is growing at a decent rate. This is more important when a streamer becomes a Partnered or Affiliate streamer. Although helpful, having an established website beforehand is not entirely necessary. Once a streamer establishes a base following, along with a track record of growth, this is when a streamer should start their website. This is considered the "Taking It Seriously" period. Not every streamer is going to be a "Mega Star" but it can happen. When a streamer starts to take streaming seriously, they should also consider their channel brand seriously.
Key Note Takeaway: An additional benefit of owning a website as a streaming influencer is the data collection of followers and subscribers personal information. Having the personal contact information of a streamer's following allows direct communication with them via email, SMS, newsletters, and desktop notifications. To have the personal contact information of 100,000+ followers and subscribers means power and would be a marketing dream.
At first, the website does not have to be fancy or include forums or any other complex web-based features. A good .com domain name that is branded to your channel leading to landing page structured around a WordPress website install would be perfectly fine. WordPress is a free and open source website CMS (content management system). WordPress runs roughly 35% of the websites on the internet, and they boost upwards of 45,000 different plugins that help enhance its features (many of them free of charge).
When establishing a website, it is a good idea to include some solid content about your streaming brand and some links that relate to your channel's brand and social media outlets. When starting out, this is all a streamer would need. The website should include details about a streamer's streaming channel such as a streamer bio page, streaming schedule, chat commands page, links to their streaming channel and anything else that website visitors would find interesting. Simple, secure, but easy. As your streaming brand grows, so should your website.
Take Away Note: The most important aspect of owning your streaming channel brand is owning the searchable keywords related to your streaming channel's brand.
Example Scenario: Let's take a look at Mixer.com for this one. Mixer.com is a growing streaming platform that is owned and connected with Microsoft and Xbox.
Looking at the top streaming influencers on Mixer.com we find the top dog, the video game streaming extraordinaire, Mr. Siefe. Siefe is the top streamer on Mixer.com according to Social Blade Mixer Stats. If you have not yet, check out Siefe's streaming channel on Mixer. He's very entertaining and worth a follow or even a sub.
If we Google search the keyword "Siefe" you will find out who owns this keyword. Siefe and his streaming channel brand honestly own this Google search in spirit. Siefe has done an awesome job of marketing his streaming channel brand on Mixer and various social media platforms. Unfortunately, he doesn't own his streaming brand keyword. If he did, his website would be the first link to come up when searching "Siefe".
Who owns Siefe's streaming brand? Twitter owns the number one spot in Siefe's streaming channel brand. Having Twitter own your streaming brand keyword is not that bad. Twitter is a "must" for all streaming influencers and is a great platform to connect with viewers, followers, and subscribers. Twitter branding still gets people and/or contacts to a resource which will put them in direct contact with a streamer. The downside to Twitter.com owning a streamer's channel branding keyword is Twitter is taking in all that traffic and visitors the streamer is sending their way, but in return, Twitter is not paying any of the streamer's bills. A streamer who uses Twitter exclusively to communicate directly with their following is only padding Twitter's pockets in the end and not theirs.
Again, having Twitter, YouTube or your streaming platform (Mixer.com in this case) own your streaming channel keywords is not a bad thing. The worst thing for a streamer like Siefe would be if there were a product known as "Siefe" that just came out last year. Most likely they would own the keyword by now knocking everything else into Google page two. Studies have shown that almost nobody, including potential sponsors, goes past page one in a Google search.
For some additional fiction-based entertainment, using the same resources as we did with Ninja at the beginning of this article we will use them to see what a streamer like Siefe is losing out on per month by not having his own branded website:
We had to perform a little "fuzzy" math for this one (again, this is just for fun) because of the how we would think it would work. Nobody publically has tracked anything like this before (Hmmm!), so we are "winging" it. At $10 CPM (cost per thousand), Siefe would need around 10,000 page views to make $100. We kept our numbers on the conservative side for the sake of some accuracy so the real total, if Siefe had a website, could vary (most likely more). A quick daily average views assessment from SocialBlade.com would put Siefe around @7,000 viewers per day with roughly 200,000 views per month on average. Let's say 100,000 of those viewers were to visit Siefe's website in a months' time. Putting Siefe with an estimated loss of around $1000.00 per month in additional revenue by just not having a website with Google AdSense ads on it. This does not take into consideration other factors like sponsorship opportunities and other ad-based agencies that payout based on a pay-per-click basis.
From $10.00 a month to $100,000 a month, no matter the dollar amount, streamer and streaming influencers only stand to benefit from having a channel branded website to accompany their streaming brand. The biggest take away is the streamer would "own" their website. No one knows what live video game streaming holds in the future. Taking advantage of the followership you have today could lead to something even much more significant down the road.
Call to action: Oh, by the way. For those who didn't know, Streamer Cloud happens to offer website hosting specifically designed for streaming influencers and online content creators. Our website hosting plans and services are designed to make hosting a website for a streamer affordable, easy and secure. We also offer a managed WordPress plan and website design services.
Check us out, and if you have any questions, please contact our staff at [email protected]
Our goal is to help video game streaming influencers, and online content creators earn more and succeed.
Good luck streaming!
Streamer Cloud Staff.